NEWS
TSUNEISHI FACILITIES & CRAFT completes construction and delivery of the underwater sightseeing boat "AQUA EDDY"
2017年3月30日
TSUNEISHI FACILITIES & CRAFT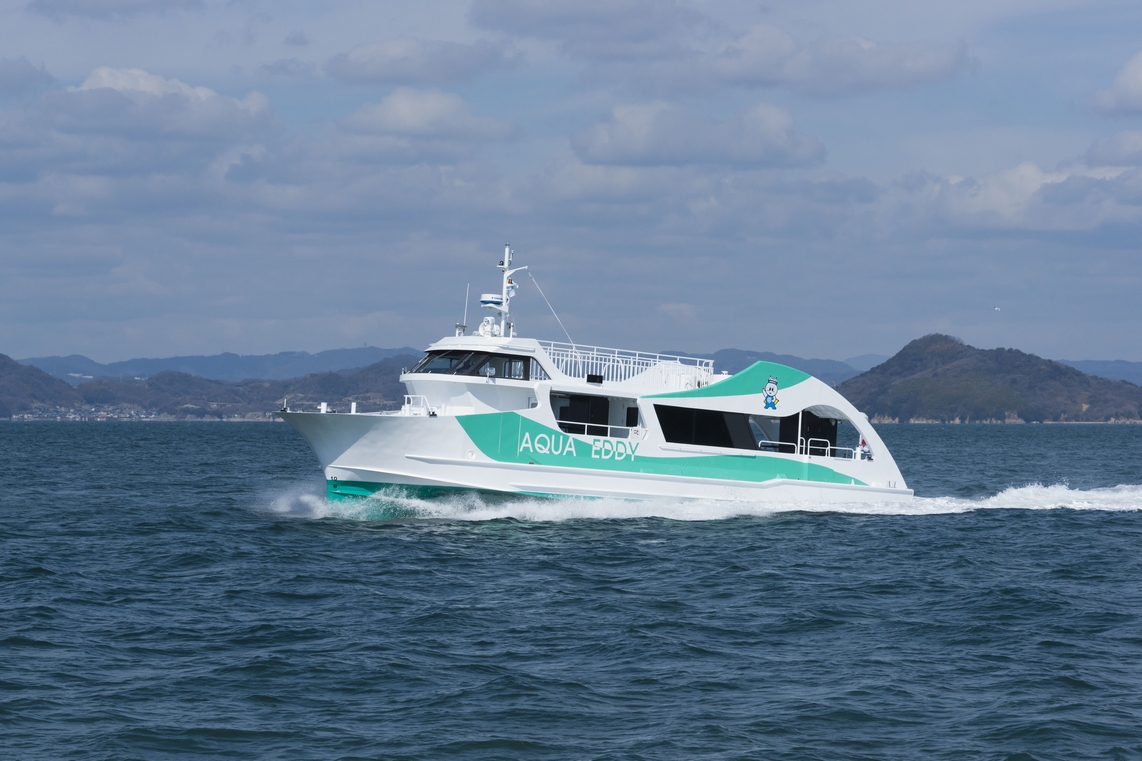 TSUNEISHI FACILITIES & CRAFT CO., LTD. (HQ: 1471-8 Urasaki-cho, Onomichi, Hiroshima; President: Jun Kambara) completed construction and delivery of the 19 GT aluminium alloy underwater observation boat "AQUA EDDY" to owner NARUTO KANKO KISEN K.K. on March 1, 2017.
・ TSUNEISHI FACILITIES & CRAFT CO., LTD.
http://tsuneishi-fc.com/en/
NARUTO KANKO KISEN will operate AQUA EDDY as an underwater sightseeing boat to observe Naruto Strait whirlpools located between Naruto City of Tokushima Prefecture and Minami-Awaji City of Hyogo Prefecture. Passengers can observe the whirlpools from the deck, and also up close from an observatory room that is one metre underwater, AQUA EDDY's biggest feature. This is the third-generation AQUA EDDY, following the first-generation (October 1996) and the second-generation (February 2005) AQUA EDDY boats.
■ AQUA EDDY Specifications
Vessel type: Aluminium alloy underwater whirlpool observation boat
Vessel name: AQUA EDDY
Length: 21.85 metres
Breadth: 4.5 metres
Depth: 1.7 metres
Gross tonnage: 19 tonnes
Service speed: approx. 20 knots
Shipbuilder: TSUNEISHI FACILITIES & CRAFT CO., LTD.
Features: The curved profile evokes whirlpools along with elegance and speed. The colour represents the waves of Naruto's sea and whirlpools. Specially designed lighting enhances the sea view and a sparkling ceiling creates a romantic mood in the spaceship-like underwater observatory room; passengers look out at the Naruto sea, and up at a "starry sky".
TSUNEISHI FACILITIES & CRAFT will continue to develop and build ships with better safety, seaworthiness, propulsion, and functionality to match customer needs.
– TSUNEISHI FACILITIES & CRAFT CO., LTD. –
TSUNEISHI FACILITIES & CRAFT CO., LTD. operations comprise aluminium alloy vessel building, repairing, general construction, and lifeboat businesses. Through these enterprises, the company pursues safety and comfort for marine traffic and for daily life, and aims to coexist with nature while placing value on human ties.
Head office address: 1471-8 Urasaki-cho, Onomichi, Hiroshima 720-0551, Japan
Representative & President: Jun Kambara
Businesses: Manufacturing and repairing of aluminium (light alloy) vessels, maintenance and inspection of lifeboats, general construction
Established: December 2010
Capital: 50 million yen
Number of employees: 65 (As of April 1, 2016)
Craft factory (construction surface area): 2,982.09 square metres
Main facilities: Marine railway 49 metres x 499 G/T, two 30t/15t overhead cranes, etc.
Types of vessels built: Passenger vessels, fishery patrol vessels, etc.
URL: http://tsuneishi-fc.com/en/
For inquiries:
TSUNEISHI FACILITIES & CRAFT CO., LTD.
Management & Administration Division
pr@tsuneishi.com