NEWS
TSUNEISHI FACILITIES & CRAFT Completes and Delivers the Passenger Ship RED BIRD for Ferry Routes Connecting Naoshima with Takamatsu Port and Uno Port
2018年9月7日
TSUNEISHI FACILITIES & CRAFT
[Products]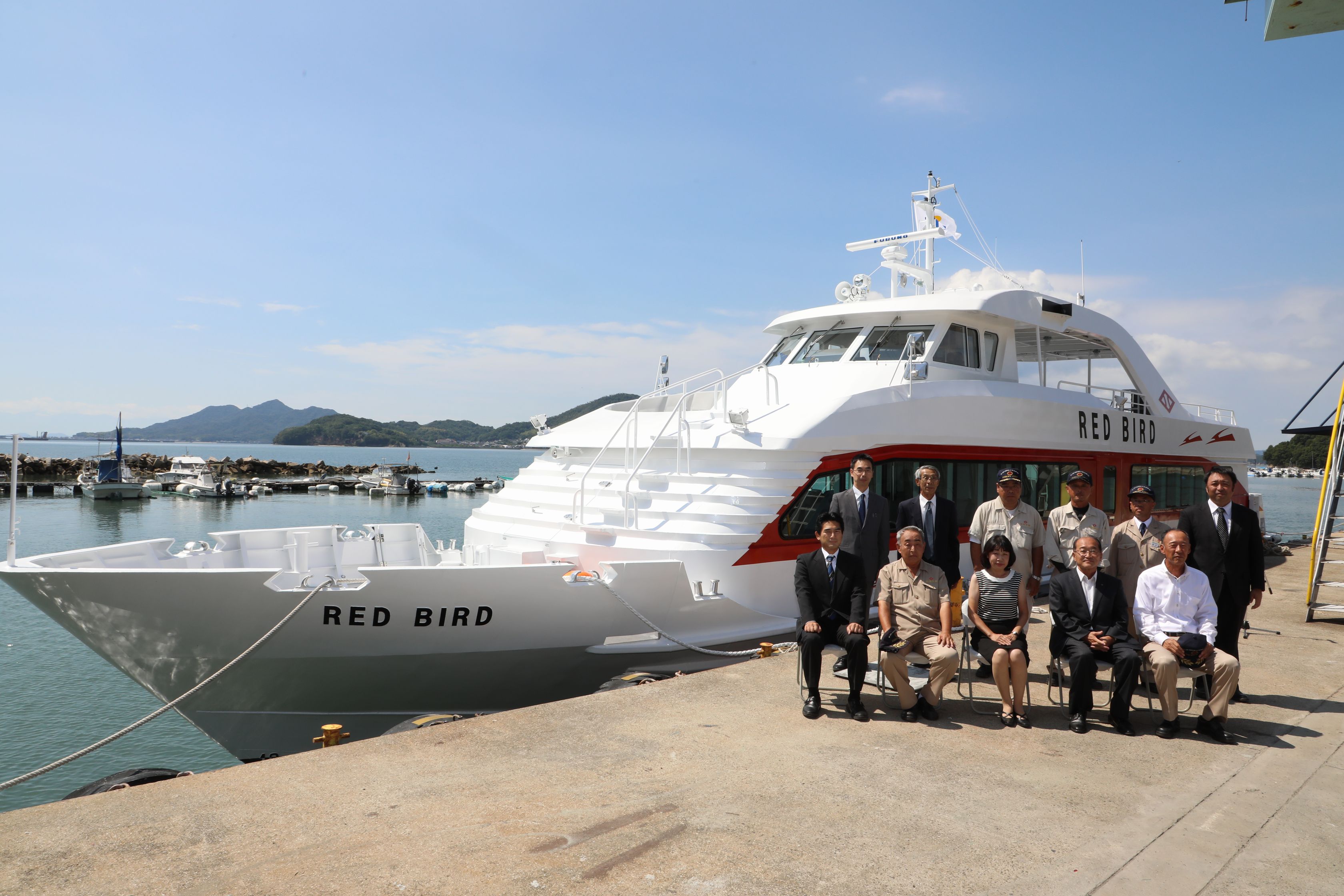 TSUNEISHI FACILITIES & CRAFT CO., LTD. (HQ: 1471-8 Urasaki-cho, Onomichi, Hiroshima; President: Jun Kambara) completed the construction of the 61 GT aluminum alloy passenger ship RED BIRD and delivered it to Shikoku Kisen Co., Ltd. on August 30, 2018.
The newly completed RED BIRD will service the regular ferry routes connecting Naoshima to Uno Port (in Tamano City, Okayama Prefecture) and Takamatsu Port (in Takamatsu City, Kagawa Prefecture). Because Naoshima is very popular as an island of art, it is very important for local residents and tourists at home and abroad, who come to visit it, to have RED BIRD as sea transportation.
Message from Hitomi Nozaki, President of Shikoku Kisen
"We named the ship RED BIRD because we wanted to imbue a sense of passion. For us, this is the first large-sized passenger ship of over 60 gross tonnage. We hope this ship will meet the expectations of our customers and the people of Naoshima, as it navigates the Seto Inland Sea, known for its beautiful views dotted by numerous islands."
Message from Jun Kambara, President of TSUNEISHI FACILITIES & CRAFT
"We built RED BIRD, which was designed based on the hopes and desires of everyone at Shikoku Kisen, by making maximum use of the technologies and knowledge that we have nurtured over the years. While we were building this ship, we were hit by the disaster caused by heavy rainfall in Western Japan. Because we managed to complete its construction despite the difficult situation that we faced, this ship has become a particularly memorable one for us. I pray that this ship will bring new joy to its passengers as it traverses the beautifully scenic waters of the Seto Inland Sea."
TSUNEISHI FACILITIES & CRAFT will continue to enhance various factors in shipbuilding including safety, seaworthiness, and propulsion performance, with the goal of developing highly convenient ships that answer the needs of our customers.
■ "RED BIRD" Specifications  
Vessel type: aluminum alloy passenger ship
Vessel name: RED BIRD
Length: 26.65 meters
Breadth: 5.00 meters
Depth: 2.15 meters
Gross tonnage: 61 tons
Maximum speed: 28.6 knots
Service speed: 24.0 knots
Capacity: 96 passangers
Shipbuilder: TSUNEISHI FACILITIES & CRAFT CO., LTD.
■ TSUNEISHI FACILITIES & CRAFT CO., LTD.
TSUNEISHI FACILITIES & CRAFT CO., LTD. is engaged in the building and repair of aluminum alloy vessels, general construction, and lifeboat maintenance and inspection. In our pursuit of safety and comfort for marine traffic and lifestyles through these businesses, we challenge ourselves to take on new initiatives that will enable people to live pleasantly, in a manner that gives them a sense of reassurance toward the future.
http://www.tsuneishi-fc.com/en/
President: Jun Kambara
Business: Manufacture and repair of aluminum (light alloy) vessels, general construction, maintenance and inspection of lifeboats
Established: December, 2010
Capital: 50 million yen
Number of employees: 52 (As of December, 2017)
Types of vessels built: Passenger ships, fishery patrol boats, etc.
Affiliate: TFC CO., LTD http://touhoku-fc.com/
For inquiries, please contact:
Business Planning Group,
Management & Administration Dept.,
TSUNEISHI FACILITIES & CRAFT CO., LTD
+081-84-873-5282
pr@tsuneishi.com