NEWS
Construction and Delivery of "Ferry KUDAKA III", Connecting Kudaka Island and the Main Island of Okinawa
2018年8月21日
TSUNEISHI FACILITIES & CRAFT
[Products]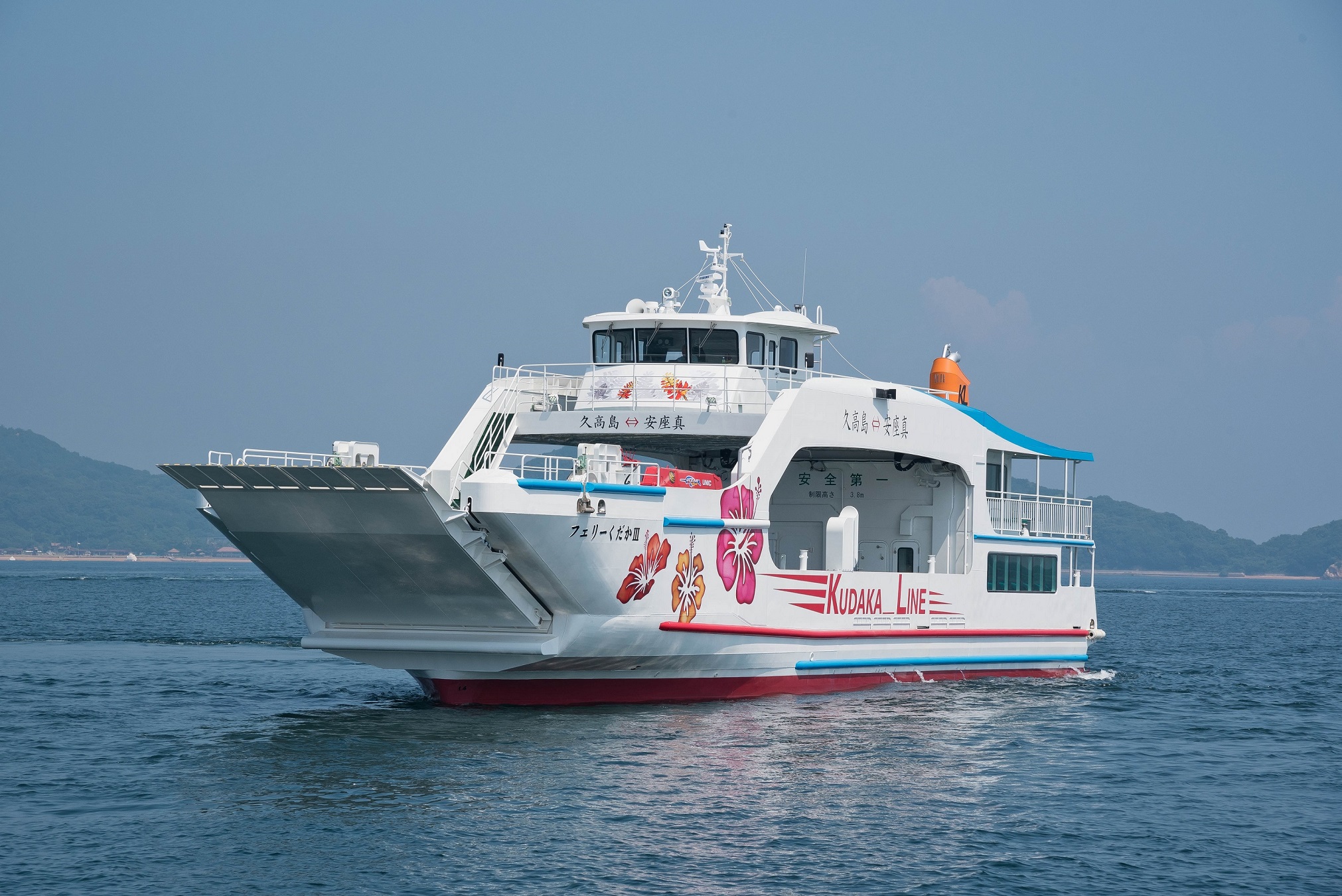 On August 8, 2018, TSUNEISHI FACILITIES & CRAFT CO., LTD. (HQ: 1471-8 Urasaki-cho, Onomichi, Hiroshima; President: Jun Kambara) completed "Ferry KUDAKA III", an 89-GT type passenger ship cum car ferry, and delivered it to its ship owner, Kudaka Kaiun General Partnership Company.
 
"Ferry KUDAKA III" will make regular trips between Azama port on Okinawa's main island and Kudaka Island. Kudaka Island, being also known as the'island of the gods', located approximately 6 km to the east of the Chinen Cape on the southern part of Okinawa's main island. It was planned as a means of transportation between the islands for both local residents and tourists.
The ship has been designed to enhance passenger comfort and safety. Its ower part is made of steel and the upper part is made of aluminum. The new design enables more stable navigation through overall weight reduction and lower center of gravity. In order to reduce the influence of vibration and crosswinds, the ship was designed without the middle pillar of the side of the hull. Compared with the ship, "Ferry KUDAKA", which is currently in operation, the number of passengers has been increased to 96 (an increase of 19 passengers) and the number of loadable vehicles has been increased to 6 (an increase of 2 vehicles), which enables the improvement of convenience. This has been achieved without reducing ship speed or fuel consumption.
TSUNEISHI FACILITIES & CRAFT will continue to enhance the safety, seaworthiness, propulsion, and other features of the ships to create highly user-friendly ships that meet the customer's needs.
■ TSUNEISHI FACILITIES & CRAFT CO., LTD.
http://www.tsuneishi-fc.com/en/
■ "Ferry KUDAKA III" Specifications  
Vessel type: passenger ship cum car ferry
Vessel material: lower part: steel plate; upper part: light alloy
Length: 34.45 meters
Breadth: 4.15 meters
Depth: 1.45 meters
Gross tonnage: 89 tons
Service speed: 14 knots
Maximum speed: 15.4 knots
Shipbuilder: TSUNEISHI FACILITIES & CRAFT CO., LTD.
Loading vessel capacity: 6 cars or 2 mixer cars
■ TSUNEISHI FACILITIES & CRAFT CO., LTD.
TSUNEISHI FACILITIES & CRAFT CO., LTD. operations comprise aluminium alloy vessel building, repairing, general construction, and lifeboat businesses. Through these enterprises, the company pursues safety and comfort for marine traffic and for daily life, and aims to coexist with nature while placing value on human ties.
Head office address: 1471-8 Urasaki-cho, Onomichi, Hiroshima 720-0551, Japan
Representative & President: Jun Kambara
Businesses: Manufacturing and repairing of aluminium (light alloy) vessels, maintenance and inspection of lifeboats, general construction
Established: December, 2010
Capital: 50 million yen
Number of employees: 52 (As of December, 2017)
Types of vessels built: Passenger vessels, fishery patrol vessels, etc.
Affiliate: TFC CO., LTD http://touhoku-fc.com/
For inquiries:
TSUNEISHI FACILITIES & CRAFT CO., LTD.
Management & Administration Division
Tel: 081-84-873-5282
pr@tsuneishi.com