NEWS
TSUNEISHI FACILITIES & CRAFT completes construction and delivery of the passenger/car ferry "Mitoyo": Its accessibility and transport of emergency vehicles supports life on the island
2016年11月17日
TSUNEISHI FACILITIES & CRAFT
[Products]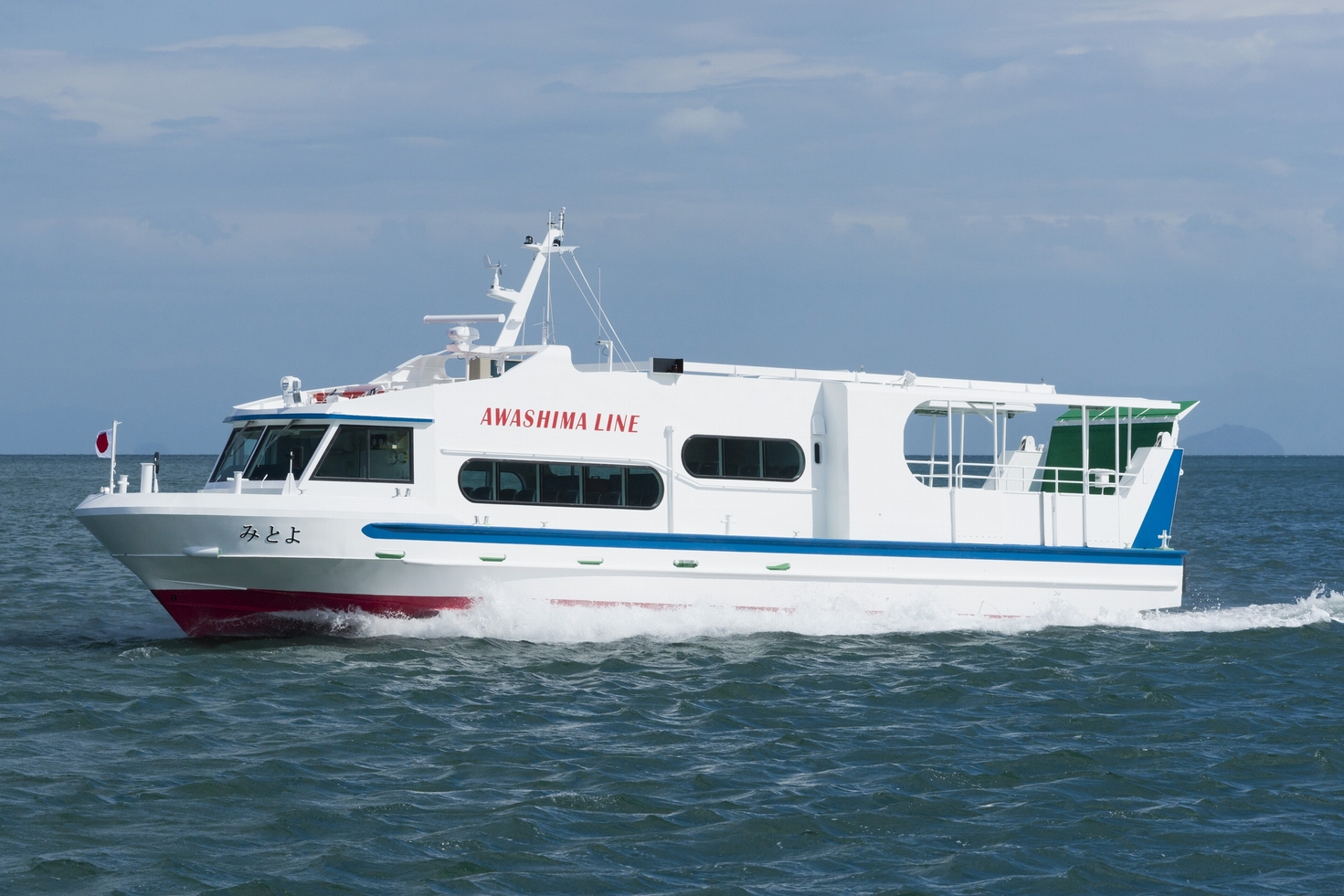 TSUNEISHI FACILITIES & CRAFT CO., LTD. (HQ: 1471-8 Urasaki-cho, Onomichi, Hiroshima; President: Jun Kambara) completed the construction and delivery of the 19 GT aluminium alloy passenger/car ferry "Mitoyo" to owner Japan Railway Construction, Transport and Technology Agency and Awashima Line Co., Ltd. on September 1, 2016.
The "Mitoyo" will start regular service between the island of Awashima and Suda Port of Mitoyo City in Kagawa Prefecture, transporting tourists and residents. The creative design of the vessel provides a more comfortable and safer journey for the passengers. The ferry interior was designed to be accessible for the elderly and disabled with minimal steps, which makes it easy to board. In addition to passengers, it can also accommodate one vehicle. The structure reduces draft changes to ensure the vehicle can be safely and smoothly loaded. The "Mitoyo" will also contribute to swift firefighting and rescue activities by transporting emergency vehicles, such as fire trucks.
TSUNEISHI FACILITIES & CRAFT will continue to develop and build ships with better safety, seaworthiness, propulsion, and functionality for both passengers and crews.
・TSUNEISHI FACILITIES & CRAFT CO., LTD.
http://www.tsuneishi-fc.com/en/
■ "Mitoyo" Specifications  
Vessel type: Aluminium alloy passenger/car ferry
Vessel name: Mitoyo
Length: 19.9 metres
Breadth: 4.4 metres
Depth: 1.4 metres
Gross tonnage: 19 tonnes
Service speed: 15 knots
Shipbuilder: TSUNEISHI FACILITIES & CRAFT CO., LTD.
– TSUNEISHI FACILITIES & CRAFT CO., LTD. –
TSUNEISHI FACILITIES & CRAFT CO., LTD. operations comprise aluminium alloy vessel building, repairing, general construction, and lifeboat businesses. Through these enterprises, the company pursues safety and comfort for marine traffic and for daily life, and aims to coexist with nature while placing value on human ties.
Head office address: 1471-8 Urasaki-cho, Onomichi, Hiroshima 720-0551, Japan
Representative & President: Jun Kambara
Businesses: Manufacturing and repairing of aluminium (light alloy) vessels, maintenance and inspection of lifeboats, general construction
Established: December 2010
Capital: 50 million yen
Number of employees: 65 (As of April 1, 2016)
Craft factory (construction surface area): 2,982.09 square metres
Main facilities: Marine railway 49 metres x 499 G/T, two 30t/15t overhead cranes, etc.
Types of vessels built: Passenger vessels, fishery patrol vessels, etc.
URL: http://tsuneishi-fc.com/en/
For inquiries:
TSUNEISHI FACILITIES & CRAFT CO., LTD.
Management & Administration Division
pr@tsuneishi.com