NEWS
TSUNEISHI FACILITIES & CRAFT completes and delivers the pilot boat "Anjin", ship model that operates quickly and safely
2016年8月2日
TSUNEISHI FACILITIES & CRAFT
[Products]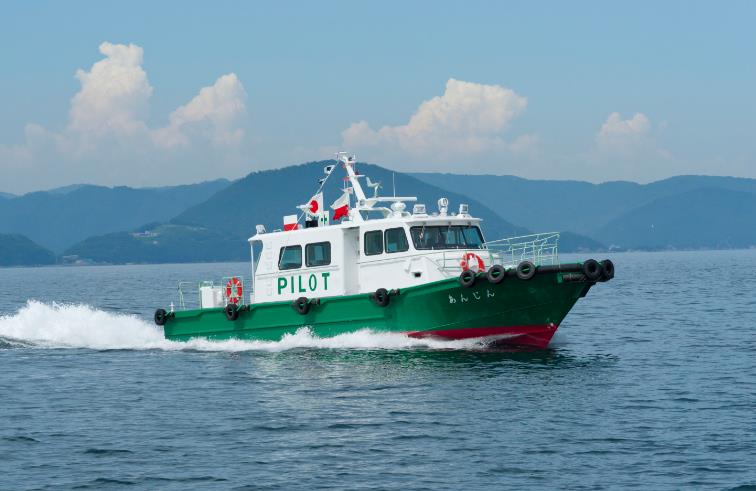 TSUNEISHI FACILITIES & CRAFT CO., LTD. (HQ: 1471-8 Urasaki-cho, Onomichi, Hiroshima; President: Jun Kambara) completed construction and delivery of the 19 GT aluminium alloy pilot boat* "Anjin" for INLAND SEA TRAFFIC CO., LTD. on July 13, 2016.
・TSUNEISHI FACILITIES & CRAFT CO., LTD.
http://www.tsuneishi-fc.com/
The "Anjin" is a pilot boat built exclusively for the Licensed InlandSea Pilots' Association, which covers Japan's largest pilotage zone centred in the Seto Inland Sea. Operated by INLAND SEA TRAFFIC CO., LTD., this is the seventh newly constructed ship since the first pilot boat "Naikai" was built for the same association in 2002.
In response to the ship owner's request for better operability and safety, a water jet propulsion system was used. The high-speed ship manoeuvres flexibly and responds quickly to the vessel it is piloting. This ship model is much safer; its lack of a propeller and rudder reduces the danger of sea accidents from entangled rope or collisions with floating matter.
TSUNEISHI FACILITIES & CRAFT will continue to enhance the safety, seaworthiness, and propulsion performance of its ships, as well as develop ships with better usability for ship owners and operators.
* Pilot boat: A small boat used by experts (called pilots) to move between ships that they board and guide to help them safely and efficiently approach port facilities.
"Anjin" Specifications
・Vessel type: Aluminium alloy pilot boat
・Vessel name: Anjin
・Length: 19.0 metres
・Breadth: 4.2 metres
・Depth: 2.0 metres
・Gross tonnage: 19 tonnes
・Service speed: 26 knots
・Shipbuilder: TSUNEISHI FACILITIES & CRAFT CO., LTD.
- TSUNEISHI FACILITIES & CRAFT CO., LTD.-
TSUNEISHI FACILITIES & CRAFT CO., LTD. operations comprise aluminium alloy vessel building, repairing, general construction, and lifeboat businesses. Through these enterprises, the company pursues safety and comfort for marine traffic and for daily life, and aims to coexist with nature while placing value on human ties.
Head office address: 1471-8 Urasaki-cho, Onomichi, Hiroshima 720-0551, Japan
Representative & President: Jun Kambara
Businesses: Manufacturing and repairing of aluminium (light alloy) vessels, maintenance and inspection of lifeboats, general construction
Established: December 2010
Capital: 50 million yen
Number of employees: 44 (end of December 2015)
Craft factory (construction surface area): 2,982.09 square metres
Main facilities: Marine railway 49metres x 499 G/T, two 30t/15t overhead cranes, etc.
Types of vessels built: Passenger vessels, fishery patrol vessels, etc.
URL: http://tsuneishi-fc.com/en/
For inquiries:
TSUNEISHI FACILITIES & CRAFT CO., LTD.
Management & Administration Division
pr@tsuneishi.com